Columns, I'm going to go ahead and post yours today, as well. Then we will be back on schedule.
This ensemble that I picked for you is going to minimize the look of your bust and accentuate your waist with two really easy pieces. The first piece is this lovely Jacquard jacket. I love how they have it here with the plain white tank underneath. This is really going to help tone down the size of your bust. And who doesn't love the almost paisley Jacquard print?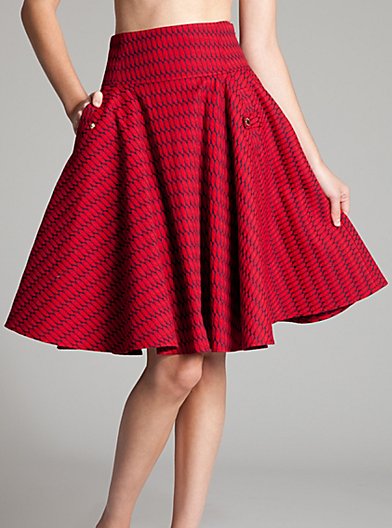 I love mixing prints. And it really comes into style during the winter months. So, I decide to mix the floral Jacquard with a very mod-looking patterned flare skirt. The way this skirt brings attention to the waist and flares out from there to a very wide bottom it's going to balance out a larger top. That's what you're looking for when finding an ensemble for this holiday season.
Let's see what it looks like on, shall we?
Don't forget! Next week we'll be posting New Year's Eve Dresses for every body type!