Before I start, I must say that I will never stop urging you to get bra fittings every 6 months. Don't feel pressured into buying something if your bra size hasn't changed. If your bra size has changed, though, it is imperative for health and clothing fit for you to be wearing the right bra. Also, how are you sure that you know you're body type if you don't know your bust size? Make sure that you get fitted in a department store. Not a place like Victoria's Secret. (Or if you can get a friend to measure you, you can follow the guidelines here.)
Let's get started.
My first concern was from an 
apple shape
 woman who has a hard time finding bras that separate her bust from her belly. This is a common problem for women with an apple shape. (Another problem can be that once you find a bra that lifts and separates, it's not very comfortable.)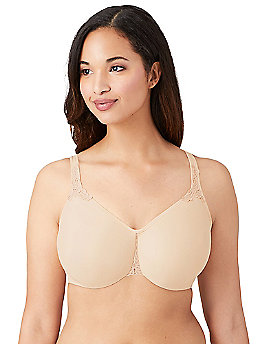 What I'm going to recommend for you is a
bra that has a wider band, but not a lot of excess material under the cups of the bra.
This
Bodysuede Ultra
bra by Wacoal has a wide band. The wide band is going to minimize the appearance of back fat. It will give you a seamless look under shirts and blouses. It also has a hidden underwire for lift and support without a lot of pressure on the belly. It is a very comfortable bra. Find a store that sells it 
here
. The second survey response was for a woman with a 34B bra size.
She wants an organic cotton bra that is not padded and does not have underwire.
My concern with this is that if you are a B cup than you need support that you're not going to find in a bra that fits your description. Once the ligaments in your breast tissue stretch(causing sagging) they never regain their elasticity. So it is important to wear a bra with some support in it.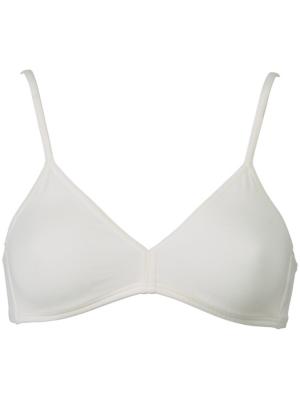 However, I did find what looks to be a very comfortable
organic cotton bra
from Hessnatur. I cannot comment on the company. I had never heard of them before today. The bra is produce in Bosnia with cotton from Turkey. It has a smooth molded cup(which is not the same as padding). A molded cup can give more support and give you a more seamless look under t-shirts. It is also a convertible bra. It seems to have a wider, more supportive band as well.
If it's about comfort, I must say that there are underwire bras that don't feel like underwire bras. If it's just about personal preference make sure that you're getting the support that you need.
I hope this post was helpful. Thanks for reading!