Halloween is almost here in Middle Tennessee. You know what that means: rain. Middle Tennessee falls and winters are filled with chilly temperatures and lots of rain.
I'm having trouble not breaking out the Halloween decorations too early. I thought I would try to focus my attention elsewhere. So, I am focusing it on finding a perfect trench coat for these cool, wet days ahead.
I'm looking in a few places, because living in this area means that you have plenty of shopping choices!
I'm partial to a structured trench coat, because they look good on all body types. If you're pear shaped you can get a trench with a wide lapel to even you out. If you're bigger on top get a trench coat with a bottom that flares out. If you're an hourglass shape – nothing too tight, nothing too baggy. If you have a boy shape a trench instantly adds shape. Try a trench with a cinched waist. An apple shape needs a very structured trench coat with clean lines.
Let's get started!
I found this beauty at Macy's. Great for a boy shape!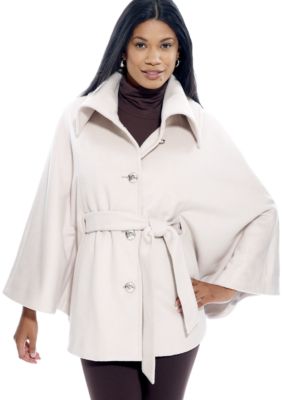 I love this cape that I found online at Belk for pear shaped ladies! (I kind of want it for myself.)
This adorable trench would be great for a column shape depending on if it is cinched at the waist resulting in a flared out bottom. You'd have to try it on at Target to see.
I like this coat at Kohl's for an apple shape or a boy shape. It adds some femininity at the shoulders. The wide lapel brings more attention up top. The flared bottom and cinched belt add great shape. I don't recommend it for an hourglass or column. I think the coat has too much shape on its own that it could look vamp-ish. (Although, if that's something you're going for I'm okay with it fitting your personal taste.)
I think this coat(at J.Crew) is fabulous for a pear shape or a column shape. It doesn't take anything away and it won't add too much either. If you're looking for casual – this is it. Looking at it, it wouldn't be bad for an apple shape as long as the clothes underneath are structured like they should be. Let me sketch something up…
If an apple shape wanted to wear the J. Crew trench coat shown above she would want something underneath like this dress that I just sketched up. The polka dots bring attention to the breasts. The fake camisole underneath is layered to give it a little something extra. The black A-line skirt that makes up the bottom part of the dress would camouflage the tummy and go down to the knees.
That's all I've got today – and I didn't think of Halloween once!
Happy trench coat shopping and enjoy the cooler weather!